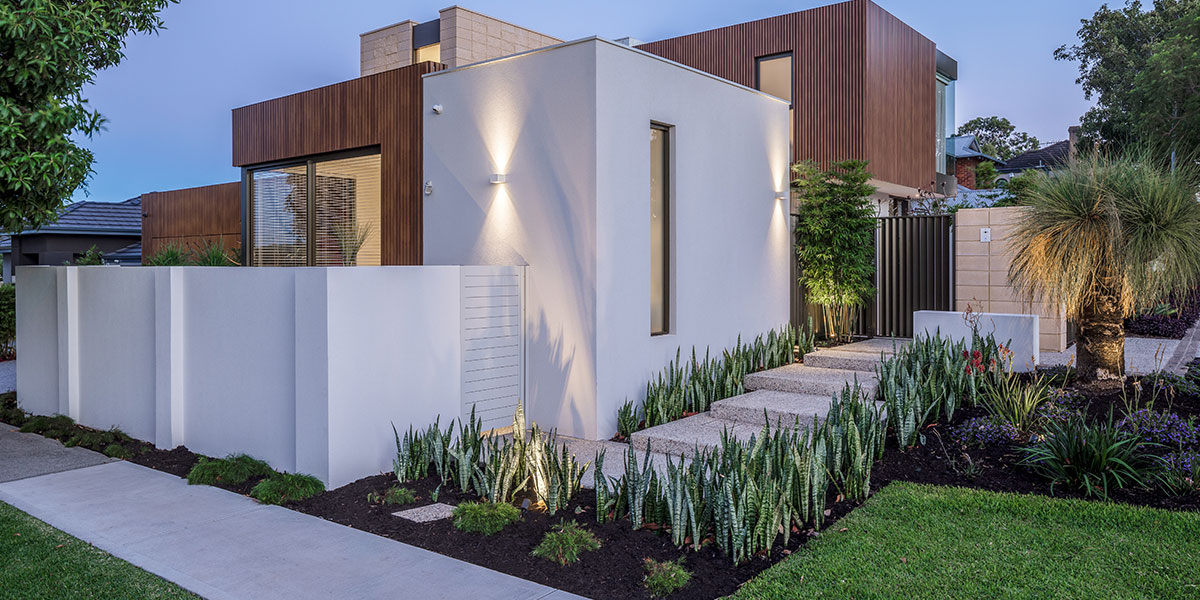 Open House Perth – Project Barnard
Collaborating on design is both exciting and rewarding with the result being something truly special. We have a great working relationship with Daniel Lomma, from Daniel Lomma Designs, and have worked together on a number of projects. We were delighted to be invited to work with Daniel on his dream home. Consulting on materials and finishes on the house and the landscape design.
Collaborating brings out the best of you as a designer. Daniel had a clear vision for his home, it had to be surrounded by greenery. Creating a garden which can be viewed from every aspect within the house, maximizing the planting. Plus taking advantage of the adjacent view of Wireless Hill and the natural bush. The outdoor space needed to be family friendly with privacy and have a resort style feel for the adults.
Every aspect; co-ordinating textures and materials, introducing an easy transition between indoors and out was considered whilst working on the landscape design. Balancing design; functionality; viability; plus growth, together with a long-term vision of how the space will mature.
Boundary fencing and pool fencing were of primary importance. Plus creating a separate entrance for clients visiting  Daniel in his Studio. Privacy for the family with clients visiting was part of the design brief too. Mondo successfully designed the boundary fences introducing vertical slats to allow for permeability and interest. Poured aggregate made it easy for forming up steps for the entrance to the studio too. Natural stone cobble was used offering texture change and a connection to the natural bush adjacent.
A playful twist is incorporated with circles of artificial lawn in the pool zone. Doubling as lounging spots for beanbags. The plain white wall becomes an outdoor cinema in summer. Taking outdoor living to the next level. The visual impact of this exceeded our expectations.
Lush tropical planting surrounded the home. Selecting Bamboo for a dense green screen and a mix of plants for foliage contrast and texture change. We believe flowers are a bonus, when the leaf structure is so interesting. Combining jigsaw shapes with rich greens with large silver paddles; rich plum tones and silver highlights add interest throughout the garden. A native frangipani can be easily viewed from upstairs and is in sync with the adjacent bush. Providing a burst of golden flowers and fragrance in Spring. Summer sees the frangipanis come to life and winter allows the fresh greens to unfold.
To view more check out this project in Mondo Landscapes portfolio https://mondolandscapes.com.au/portfolio-item/alfred-cove-wa/
The bottom line is – the landscape had to be cost effective. There was not an endless budget, even though the home had a high spec finish. A fibre glass pool was incorporated into the landscape. Another cost saving exercise was to transplant Frangipanies from Daniel's grandmothers house, together with a number of other plants. Daniel's family pitched in with the planting too. This turned into a wonderful experience for them and gave them a very united approach to the garden and outcome. Most importantly a good quality reticulation system was install. Soil preparation and mulching were paramount. With the foundation in place smaller plants could be used successfully.
Did we meet the landscape design brief – that would be a resounding YES! It's the subtle details – colour palette and strong clean lines that compliment this contemporary home and will stand the test of time. The home and landscape has now gone on to win several design awards. Best of all we have a life long friend and collaborator in Daniel, and his family have an amazing space to enjoy together!
It is so exciting to be part of Open House Perth. Take the time to drop in this weekend to say hello.